Spooktacular Soiree
10/29/2020 07:00 PM - 07:45 PM CST
Description
Join us... if you dare!
During this FREE Live Zoom virtual event, professional mixologist Alexandra Bookless will guide us through the creation of 3 Halloween-themed cocktails while educating us about the ingredients and the mixology process.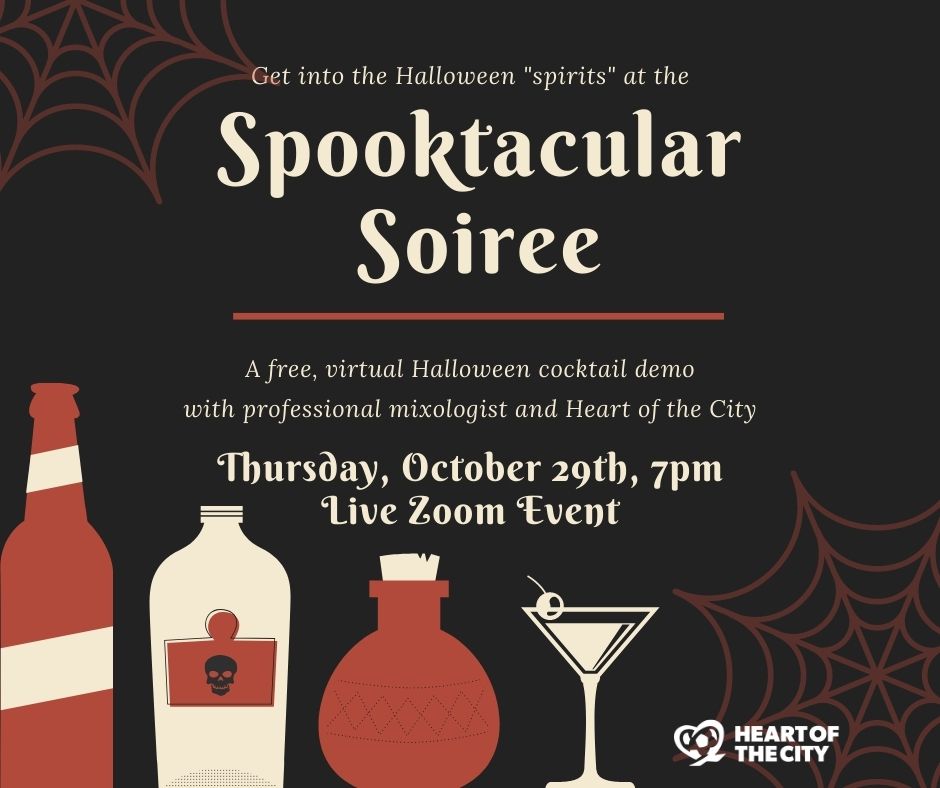 You can choose to sit back and enjoy the show or purchase ingredients ahead of time to follow along during the demo. Participants will also have the chance to learn more about Heart of the City's programs directly from players themselves.
This event has a capped registration, so reserve your spot by registering today! Zoom link will be shared prior to the event date. Come enjoy a night of ghoulish fun!
***Participants must be 21 years of age or older to attend this event.
Invite your friends - share this event on Facebook.
About Heart of the City:
Founded in 2014 by community members, nonprofit organization Heart of the City provides an opportunity for youth in Lake County to participate in recreational and competitive soccer activities. We believe that all youth should have access to high-quality sports programs and academic learning opportunities. As a result, we endeavor to teach our players to be competitive on the field, successful in their school and productive in their community.
About Alexandra Bookless Turner:
Alexandra Bookless Turner has worked in the Food and Beverage industry for two decades. Notably, in 2009 she helped open the infamous cocktail bar the Passenger in Washington DC and then acted as GM and Beverage Manager until it's closure in 2014. She has worked with the Bon Vivants in San Francisco where she was the GM of Cafe du Nord and the Beverage Manager of the Swedish American Hall before returning to DC to work with award-winning Drink Company. In 2018 she came on board as the Beverage Manager of the flagship Eaton Hotel in Washington DC to help open TOTC-Nominated Allegory, American Son, Wild Days and Kintsugi. Her cocktail recipes have been featured in publications including Imbibe Magazine, Cosmopolitan Magazine, SELF Magazine, Flavor Magazine, The Washington Post, NPR, Drinking in America and more.